Neil Godbout: Liberal media bias starts at home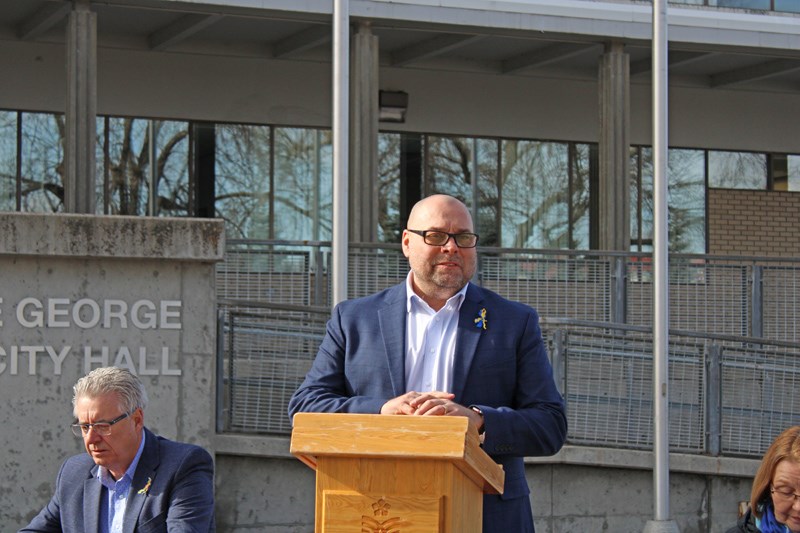 My liberal bias as editor of Citizen has become too entrenched over the past two years and I apologize to the readers for that.
Last week, The Citizen published an article in the Canadian Press about efforts to create a three-digit national suicide prevention hotline.
Here's the headline: "Making a Three-Digit Suicide Prevention Hotline Accessible, CRTC Says in Consultations."
But with the exception of two paragraphs down the 638-word story about how deaf rights advocates called on the CRTC to make the helpline inclusive, that's not what it was.
The story was actually about two Tory MPs – one of them, Todd Doherty, MP for Cariboo-Prince George – leading the charge to set up the hotline, loudly complaining to anyone who will listen. that this bureaucratic drag continues as 11 Canadians take their own lives every day.
We changed the headline on The Citizen website to read: "MP Doherty asks CRTC to hurry with three-digit national helpline.
For a national audience, the headline should have been: "Conservatives Urge Liberals to Accelerate Creation of Suicide Hotline."
The problem with that headline is that it just doesn't make sense to liberal (and largely urban) Canadians who think the federal Conservatives only care about lowering taxes (and the carbon tax in particular), to end vaccination mandates, to deny climate change and to discriminate against all those who advocate social justice.
And it really makes no sense to journalists and editors based in Vancouver and Toronto that Tory MPs from Prince George and Edmonton are advocating for government action on a social issue that would help save people's lives. vulnerable.
This is just one example in Prince George of a much larger media phenomenon that has been going on for years.
In 2018, the Washington Post published an article that clearly confused its editors: "White liberals go dumb when talking to black people, new research finds." Note the use of the verb. "Contend" is the fancy word white liberals use when they are suspicious of academic research that does not confirm their worldview. It is not a verb used to report on studies on climate change, COVID-19 or immigration.
In 2020, liberal American media explained that uneducated, low-income white people were the reason Donald Trump drew millions more votes than he received when he won the presidency in 2016. In other words, the story was about racism. Much less reported is how Trump's support among black and Hispanic voters, particularly men, has also increased. The Hispanic vote allowed Trump to comfortably retain Florida and Texas, despite reports in the final days of the campaign that they were in play for Democratic nominee Joe Biden.
Closer to home, Justin Trudeau's stories of blackface, unwanted sexual advances, rude treatment of Indigenous leaders and favors to his wealthy friends and benefactors haven't had the impact they would have. he was the leader of the Federal Conservatives. It's partly because of the lack of leadership from the federal Conservatives since Stephen Harper's departure (and who look set to shoot themselves in the mouth yet again). But that's mostly because Liberal supporters and federal MPs have been quiet, lest pushing Trudeau to the curb will open the door to the crazed horde of conservatives.
So much for holding the rich and powerful accountable for their actions. It turns out that if your policy is correct, you can get a pass for bad behavior.
Here at home, my liberal bias as editor of Citizen has become too entrenched over the past two years and I apologize to the readers for that. Before 2020, I regularly received complaints from both sides of the pollical aisle. Center-right readers told me I was a bleeding-heart liberal and center-left readers accused me of being a privileged middle-aged white man. Correct on both counts. This is the sweet spot for a fair and balanced editor and opinion writer.
Over the past two years, however, the compliments have come almost exclusively from the left and the criticism almost exclusively from the right (except for people who thought I wasn't left-wing enough or were angry that I posted right-centered perspectives in the form of letters to the editor). While I'm not alone when it comes to a growing disregard for people and perspectives in the age of COVID, that's no excuse either. I have a professional responsibility (in other words, I get paid) to research, understand, and express opinions in the community that are not my own.
Recently, I spoke with some of my toughest online critics, readers who care about Prince George and the Citizen but feel we have lost our way, as a community and as a publication. It turns out that we care about the same things most of the time and our differences aren't as wide or as deep as they may have appeared.
I'll be sharing how some of these conversations have unfolded, the insights I've taken away so far, and what I plan to do about it (both in my opinion writing and in future Citizen coverage) in editorials later this week.
Editor-in-Chief Neil Godbout