Realscreen » Archive » Veteran News Producer James F. Blue III to Lead Smithsonian Channel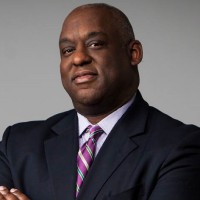 MTV Entertainment Group (formerly Entertainment and Youth), a division of ViacomCBS, has named PBS NewsTime and old night line producer James F. Blue III as SVP and manager of the Smithsonian Channel.
Blue (pictured) will work closely with the Smithsonian Institution to expand and diversify the Smithsonian Channel's slate of content. He will additionally be responsible for supporting the institution's efforts to engage, inspire and educate.
The Emmy, Peabody and Alfred I. DuPont-Columbia award-winning executive will also oversee all factual and unscripted content across MTV Entertainment's streaming, linear and digital portfolio of brands.
He will report jointly to Chris McCarthy, President of MTV Entertainment Group (MTVE); and Nina L. Diaz, President of Content and Chief Creative Officer.
"Smithsonian is a world-class brand rich in the treasures of our shared American experience," McCarthy said in a statement. "James is an exceptionally talented executive and incredible storyteller who will bring these iconic treasures and experiences to life across all of our platforms."
More recently, Blue was the special projects and main producer of ​PBS​ NewsTime, where he managed specials and was the senior assistant to the executive producer for the daily show. He also managed several NewsTime reporting initiatives, including "Searching for Justice" to "Race Matters" to "Chasing the Dream".
Prior to that, Blue served as an executive producer for BET Networks during the 2012 US election cycle where he conducted exclusive interviews with President Barack Obama and First Lady Michelle Obama, as well as extensive coverage of Republican candidate Mitt Romney.
Blue also held various senior titles with the Koppel Group at Discovery Channel; ABC News, including nine years at night line; and NBC News.
"I look forward to using my expertise and experience to help shape and execute MTV Entertainment's strategic vision for Smithsonian and other news, factual and non-fiction content across the group's platforms, and even beyond that," Blue said.
"James' illustrious storytelling skills make him the ideal candidate to lead this next chapter of the Smithsonian chain," Diaz added. "With endless material to unleash, I can't wait to see his unique vision for this legendary brand come to life."